By: William Bruno Not too long ago, if you were to listen to Mitch Holthus on The Kansas City Chiefs broadcast you would hear him yell "TOUCHDOWN, Kansas City Chiefs" which was quite often followed by, "TOUCHDOWN, Tony Gonzalez!!!" Since those days ...

By: Nathan Shellstein Anyone who followed the Kansas City Chiefs last year understood that Jamaal Charles was the bulk of the offense. He figures to be a huge part again in 2014, but the team is hoping for a bit more help. Here is a look at the 3 be ...
Some strong running by Jamaal Charles' replacement has helped give the Chiefs a halftime lead. Tailback Knile Davis racked up 69 rushing first-half yards, including a 21-yard TD run off an inside handoff, as Kansas City took a 14-3 lead after two quarters in Miami. Charles, the Chiefs' lead back, is inactive with an ankle…
Read more…
By Biggems
how has he looked in the first two games? Read more…
By TopekaRoy
The Kansas City Chiefs (0-2)

vs.
The Miami Dolphins (1-1)


Sunday, September 21, 3:25pm CST
at
Sun Life Stadium
Miami, Florida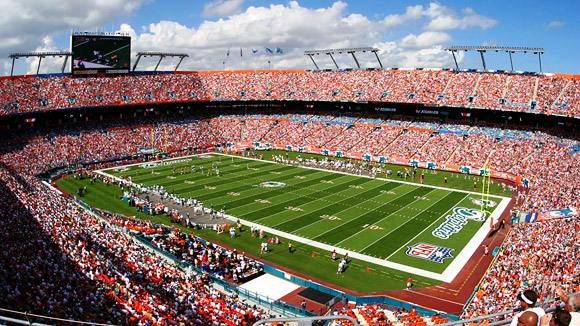 Television coverage:
CBS

Watch online:
WiZiWiG.tv
VIPBox.eu
BossCast.net
Feed2All.eu
FirstRowUs1.eu
Before watching any streams please READ THIS important message.
Read more…
By Mike Florio
The official diagnosis on Chiefs running back Jamaal Charles suggested that he'd miss time. And he still may. But there's a good chance he won't. Despite having a high ankle sprain (and a bone bruise, per a source with knowledge of the situation), Charles remains a game-time decision for Sunday's contest at Miami. With only…
Read more…
By Josh Alper
Over the course of the week, there are a lot of posts about the most prominent injured players but we know that you might not see all of them and that some others may fall through the cracks. As a result, we'll comb through all the injury reports every Friday afternoon so that there's one…
Read more…
Chiefs tailback Jamaal Charles (ankle) is questionable for the club's Sunday's matchup at the Dolphins, according to the injury report. The Chiefs' lead back, Charles was limited for a second straight day with his injury, a high-ankle ailment. A "questionable" designation means a player is 50-50 to play. Knile Davis, Cyrus Gray and Joe McKnight…
Read more…
Chiefs tailback Jamaal Charles (ankle) is questionable for the club's Sunday's matchup at the Dolphins, according to the injury report. The Chiefs' lead back, Charles was limited for a second straight day with his injury, a high-ankle ailment. A "questionable" designation means a player is 50-50 to play. Knile Davis, Cyrus Gray and Joe McKnight…
Read more…
For the second straight day, Chiefs tailback Jamaal Charles took part in practice as the club started to wind down its preparation for Sunday's game at Miami. Charles suffered a high-ankle injury in the Chiefs' Week Two loss at Denver, raising fears he could miss some time, as such ailments are often multi-week injuries. But…
Read more…