By: William Bruno Not too long ago, if you were to listen to Mitch Holthus on The Kansas City Chiefs broadcast you would hear him yell "TOUCHDOWN, Kansas City Chiefs" which was quite often followed by, "TOUCHDOWN, Tony Gonzalez!!!" Since those days ...

By: Nathan Shellstein Anyone who followed the Kansas City Chiefs last year understood that Jamaal Charles was the bulk of the offense. He figures to be a huge part again in 2014, but the team is hoping for a bit more help. Here is a look at the 3 be ...
Quote:
Originally Posted by matthewschiefs
A te don't really understand that unless there not high on Moaki
Quote:
Originally Posted by matthewschiefs
Have not loved these picks tonight but we shall see what happens Davis fumbles way to much
This is how stupid this guy is. These are his genius thoughts of Kelce and Davis
Please ban this joke of a poster :pointlaugh::ban::iamwithstupid: Read more…
I have had many rants about this defense but Today I'm going to give them a tip of the cap to them. They didn't let them get anything going even after a couple of turnovers and big returns today they didn't fold there tents up and go home. So good game guys now build on this
GO CHIEFS!!!!!!!!!!!!!!!!!!!!!!!!!!!!! Read more…
In a performance highlighted by three TD passes from quarterback Alex Smith and 132 yards rushing from Knile Davis, the Chiefs pulled away for a 34-15 victory on Sunday afternoon in Miami. Two of Smith's TD passes went to running back Joe McKnight, who had never scored a regular season offensive touchdown before Sunday. But…
Read more…
Dolphins wide receiver Brian Hartline capped his one-yard third quarter TD catch vs. Kansas City on Sunday by imitating a golfer attempting a successful putt as the gallery — a group comprising several of his teammates, including Mike Wallace — looked on. As post-TD celebrations go, it was a creative one. However, it was a…
Read more…
Big plays on defense and special teams have helped the Dolphins narrow the Chiefs' lead to 21-15 after three quarters. On the third offensive play of the quarter, Dolphins defensive tackle Jared Odrick forced Chiefs quarterback Alex Smith to fumble, with defensive end Derrick Shelby recovering for Miami, setting up a one-yard TD reception by…
Read more…
Some strong running by Jamaal Charles' replacement has helped give the Chiefs a halftime lead. Tailback Knile Davis racked up 69 rushing first-half yards, including a 21-yard TD run off an inside handoff, as Kansas City took a 14-3 lead after two quarters in Miami. Charles, the Chiefs' lead back, is inactive with an ankle…
Read more…
By Biggems
how has he looked in the first two games? Read more…
By TopekaRoy
The Kansas City Chiefs (0-2)

vs.
The Miami Dolphins (1-1)


Sunday, September 21, 3:25pm CST
at
Sun Life Stadium
Miami, Florida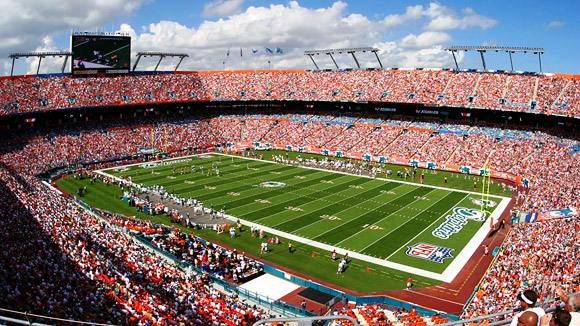 Television coverage:
CBS

Watch online:
WiZiWiG.tv
VIPBox.eu
BossCast.net
Feed2All.eu
FirstRowUs1.eu
Before watching any streams please READ THIS important message.
Read more…