By: William Bruno Not too long ago, if you were to listen to Mitch Holthus on The Kansas City Chiefs broadcast you would hear him yell "TOUCHDOWN, Kansas City Chiefs" which was quite often followed by, "TOUCHDOWN, Tony Gonzalez!!!" Since those days ...

By: Nathan Shellstein Anyone who followed the Kansas City Chiefs last year understood that Jamaal Charles was the bulk of the offense. He figures to be a huge part again in 2014, but the team is hoping for a bit more help. Here is a look at the 3 be ...
The Broncos beat the division-rival Chiefs to improve their record to 2-0 today in Denver. But it wasn't easy. Although Denver took an early lead and appeared ready to cruise against an injury-depleted Kansas City team, it was the Chiefs who stormed back in the second half and drove deep into Denver territory, poised to…
Read more…
Two of the Chiefs' best players are out for the rest of today's game in Denver. Kansas City has confirmed that both safety Eric Berry and running back Jamaal Charles have left the game with ankle injuries. The Chiefs have had bad luck with injuries already this season, having lost both linebacker Derrick Johnson and…
Read more…
By LasVegasFan
I'm new —- Is there a live chat room during the games? Read more…
Beating the Broncos in Denver is never easy, but it just got harder for the Chiefs today. Kansas City running back Jamaal Charles suffered an ankle injury in the first quarter and walked to the locker room. The Chiefs said his return is questionable. Charles had just two carries for four yards before he had…
Read more…
By TopekaRoy
The Kansas City Chiefs

vs.
The Denver Donkeys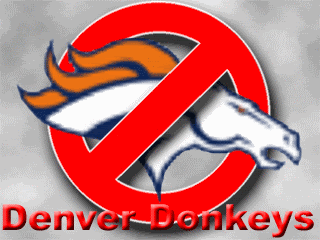 Sunday, September 14, 3:25pm CST
at
Sports Authority Field at Mile High Stadium
at Denver in Colorado in the United states of America

at North America in the Western Hemisphere on the Planet Earth
Television coverage:
CBS

Watch online:
WiZiWiG.tv
VIPBox.eu
BossCast.net
Feed2All.eu
FirstRowUs1.eu
Before watching any streams please READ THIS important message.
Read more…
By Mike Florio
The NFL has a new, comprehensive drug policy. Unless it doesn't. The NFLPA approved a term sheet on Friday, but the two sides have failed to turn that term sheet into a final agreement. As a result, the players whose suspensions would be lifted by a new drug policy with retroactive application won't have their…
Read more…
As you would expect, the Broncos are favored over the visiting Chiefs on Sunday. In fact, no team is a bigger favorite on the Week Two card. The Broncos, who are laying 12.5 points vs. Kansas City, are the only double-digit favorites of the week. The only other club favored by more than a touchdown…
Read more…
By Eydugstr
http://www.si.com/nfl/2014/09/12/nfl…6pLid%3D528836
If Welker gets to come back, so should Stephenson. Read more…