By: William Bruno Not too long ago, if you were to listen to Mitch Holthus on The Kansas City Chiefs broadcast you would hear him yell "TOUCHDOWN, Kansas City Chiefs" which was quite often followed by, "TOUCHDOWN, Tony Gonzalez!!!" Since those days ...

By: Nathan Shellstein Anyone who followed the Kansas City Chiefs last year understood that Jamaal Charles was the bulk of the offense. He figures to be a huge part again in 2014, but the team is hoping for a bit more help. Here is a look at the 3 be ...
The news out of Kansas City is not good for the Chiefs. Two starters on the Chiefs' defense, linebacker Derrick Johnson and defensive end Mike DeVito, have left the game with Achilles injuries. Although there's no immediate word on the severity of the injuries, they've both already been ruled out of today's game. And Achilles…
Read more…
By TopekaRoy
The Kansas City Chiefs

vs.
The Tennessee Titans


Sunday, September 7, 12:00pm CST
at
Arrowhead Stadium
Kansas City, Missouri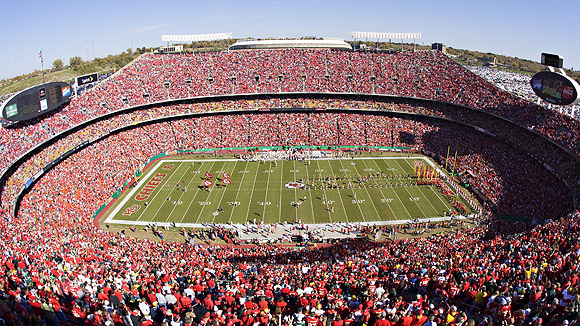 Television coverage:
CBS


Read more…
By Josh Alper
Every week we'll bring you all the inactives from the early games in one post, constantly updated with the latest information. So check back often to see the full list as it becomes available. Saints at Falcons Saints: WR Kenny Stills, FB Erik Lorig, S Marcus Ball Falcons: QB Sean Renfree, CB Javier Arenas, LB Nate…
Read more…
By Josh Alper
Over the course of the week, there are a lot of posts about the most prominent injured players but we know that you might not see all of them and that some others may fall through the cracks. As a result, we'll comb through all the injury reports every Friday afternoon so that there's one…
Read more…
By EmDiggy
http://footballgameplan.com/football…ans-vs-chiefs/
Good afternoon Chiefs fans! Good luck this week!
Em Read more…
By Josh Alper
The Chiefs rode running back Jamaal Charles hard last season and were rewarded with nearly 2,000 yards in total offense and 19 touchdowns that were essential to their successful bid for a playoff berth. When Charles got hurt in that playoff loss to the Colts, the Chiefs turned to Knile Davis before Davis got hurt…
Read more…
As PFT winds down its "Five Questions" series, we move next to the Chiefs, who are trying to make the playoffs in back-to-back years for the first time since the 1994-95 seasons. At the time, the franchise was reaching the end of a six-season streak of postseason appearances. In a vote of the PFT staff…
Read more…
The NFL officially announced Tuesday night that Denver Broncos receiver Wes Welker will miss the first four games of the season after violating the league's performance enhancing drugs policy. The four game suspension will actually be a five-week ban in total as the Broncos bye week falls in Week 4. Welker is eligible to return…
Read more…