By: William Bruno Not too long ago, if you were to listen to Mitch Holthus on The Kansas City Chiefs broadcast you would hear him yell "TOUCHDOWN, Kansas City Chiefs" which was quite often followed by, "TOUCHDOWN, Tony Gonzalez!!!" Since those days ...

By: Nathan Shellstein Anyone who followed the Kansas City Chiefs last year understood that Jamaal Charles was the bulk of the offense. He figures to be a huge part again in 2014, but the team is hoping for a bit more help. Here is a look at the 3 be ...
By Frankenchief
This is about the 3rd rounder the league is stealing from the Chiefs. I had heard that it would be addressed before the draft. well we are getting close.
It would be nice if the Chiefs knew by now about the final decision so they could strategize for the draft. Read more…
By Mike Florio
Last year, Chiefs coach Andy Reid underwent knee replacement surgery. Earlier this year, a lingering infection resulted in the removal of the replacement knee. Earlier this week, according to Terez Paylor of the Kansas City Star, a new knee was finally installed. Since February, Reid had a plate in the knee in the knee as…
Read more…
By Frankenchief
Really? After getting every help possible from the NFL towards 3 Super Bowl titles they nag about this:
"Is the NFL trying to set up the Denver Broncos to lose the AFC West?"
http://www.milehighreport.com/2016/4…e-the-afc-west
Entitled much?!!! Read more…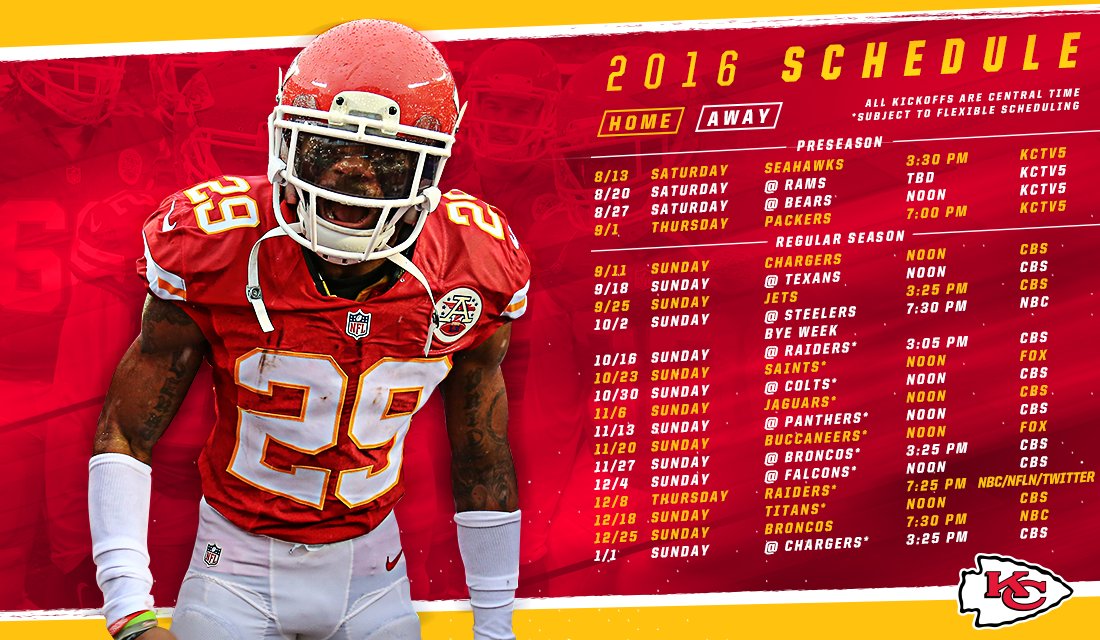 Going to be a fun year. Read more…
By Darin Gantt
It's not a Super Bowl rematch, but the teams which will open the year on Sunday Night Football were only a game away. The Patriots will open the season on SNF at the Cardinals, kicking off a strong slate of games on NBC. Both teams lost in conference championship games last year, and nothing has happened…
Read more…
By Mike Florio
Five years ago, when Christmas landed on a Sunday, the NFL staged a Christmas Night game at Lambeau Field, between the Bears and Packers. This year, with Christmas on a Sunday again, the NFL will play twice as many games. The new schedule has the Broncos visiting the Chiefs on Christmas night at 8:30 p.m.…
Read more…
By Joel Thorman ? @JoelThorman on Apr 14, 2016, 10:00a 179
Thank the good Lord that the LA Rams decision makers are not in Kansas City. I am so happy the Chiefs were nowhere near the trade that has the Rams moving up to the No. 1 overall pick. (Well, I would love to be the Titans … not the Rams)
The Rams gave up a comical amount in trading with the Titans up to the top pick. Way too much. For who? Carson Wentz? Jared Goff?
Titans receive from Rams: 1st round pick Read more…
By Darin Gantt
Rounding up 30 NFL players to smoke some weed probably wouldn't be that difficult an endeavor, and you'd likely get Snoop Dogg to show up. But this time, it's in the interest of science. According to Abby Haglage of the Daily Beast, a group led by former Saints, Rams and Chiefs tackle Kyle Turley is…
Read more…