Coming into the season, there was little doubt as to who the Super Bowl contenders were. The stalwarts like:
Patriots-Brady
Steelers-Roethlesberger
Ravens-Flacco
Falcons-Ryan
Texans-Shaub
Packers-Rogers
Giants-Manning
As horrible as the Chiefs offense has been this season, they still have a defense ranked #15 in the league. Pair that defense with an offense that can control the clock and keep them fresh, and Chiefs would have a top 10 or even top 5 defense. The offensive line ranks in the top 5. The Chiefs have the 4th best rushing attack. They have 2 first round picks at WR along with Breaston, McCluster, and a great pass catching TE in Moeaki. This team as an above average special teams unit as well.
The Chiefs, as a full unit, have fewer holes on their team than the perennial Super Bowl contenders. So, what are we missing? We can sit here and blame coaching until we're blue in the face, but the point of the matter is that this team won't be able to do anything until they address the most important position on the team. No coaching staff will have a chance at success as long as Matt Cassel and Brady Quinn are under center.
If you don't believe me, go watch the Steelers being led by Charlie Batch. They're AWFUL. They look a lot like Chiefs, in fact.
Anyone know what's going on with him I read about a cart off to the locker room in a different thread
While some may disagree, I feel Cassel is not the answer going forward. Because of this and believing Quinn is not the answer either do we play Stanzi for a couple games and exhaust all options so when we go into next year, we know if we can keep him around on the cheap for a true back up? I would, only worry is if he does struggle for the rest of the year we don't get a good read of everyone else on that side of the ball. Either way a good cleaning of this franchise is needed to bring it back to where it should be. Not all, but certain things need to be refurbished. Bash away.
Kansas City Chiefs (1-10)


vs.
Carolina Panthers (3-8)

Sunday, December 2, 12:00PM Central Time
at
Arrowhead Stadium, Kansas City, KS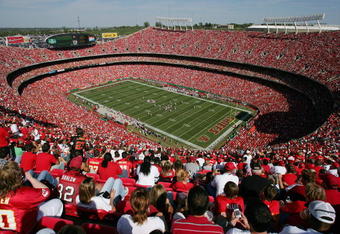 on FOX

Watch online: Kansas City Chiefs vs Carolina Panthers Live Stream Online
Apparently there has been a possible shooting incident (possible suicide) at Arrowhead involving a player thought to be Jovan Belcher.Truly shocking.
ideal situation is for us to trade down, BUT who would want to trade up to #1? without a clear franchise QB or record breaking RB, or speed demon WR who would be the undisputed #1 overall pick that multiple teams would covet, and thus be willing to give us multiple picks to trade up for him?
This a great article from the KC Star about Cassel's tenure here. You can read it for yourself, but I wanted to pull out one quote (thanks to @ChrisWesseling on Twitter for pointing this out):
"Shortly after making the trade that would come to define his time as general manager of the Chiefs, Scott Pioli began telling friends he wasn't sure how good Matt Cassel would be as a starting NFL quarterback.
"But I know he'll work like a great one," Pioli said.
In that way, Cassel has lived up to his side of the deal. He has been promoted and paid like good starter, and it turns out he has the ability of a good backup. The gap is not because of a lack of effort, or caring. That's not his fault. Neither is his tie to Pioli."
Read more here: Sam Mellinger | Cassel sets example despite abuse – KansasCity.com
Sam Mellinger | Cassel sets example despite abuse – KansasCity.com
I didn't know he got one
snip:
KANSAS CITY, Mo. — Broncos quarterback Peyton Manning received a concussion test during his team's 17-9 victory Sunday against Kansas City. Manning took a blow to the head while throwing a touchdown pass to tight end Jacob Tamme with 18 seconds left in the first half. After Manning threw, Chiefs defensive lineman Tyson Jackson reached the quarterback and knocked him to the ground.
As Manning fell, the back of his helmet slammed against the turf. He got up holding the back of his head with his right hand as right guard Chris Kuper checked on him.
Read more: Broncos' Peyton Manning passes concussion test – The Denver Post Broncos' Peyton Manning passes concussion test – The Denver Post