By Josh Alper Week Six kicked off on Thursday with an Eagles win and it continues with 12 more games on Sunday, which means that the 24 teams in those games submitted their final injury reports of the week on Friday. Questionable players are uncerta ...
That picture was from a link via the thread about Scott Pioli kicking someone out for having "Fire Scott Pioli" signs or handing out flyers…To me it says volumes.
First off…Gotta say it…IMHO the whole blackout/wear black chiefs stuff thing is really pointless. Same goes for flying airplane banners. Understand it's their money & their perogative, but to me trying to convince Clark Hunt or Pioli how much you despise them while paying for $27 parking, and buying $8 beer or hot dogs is just not an effective message.
But the empty seats at today's game, and all the lost revenue surrounding them…That message is the one that will hit home with Clark's accountants. There's no way someone will look at those empty chairs and not do anything.
from NFL.com
Matt Cassel and the Kansas City Chiefs were floundering again Sunday. At a certain point, the next chapter in a troubled marriage became inevitable.
Coach Romeo Crennel brought out the hook early in the third quarter, benching Cassel with the Chiefs facing a 15-point deficit against the Cincinnati Bengals. It was the end of Cassel's day — and quite possibly his Chiefs career.
Cassel went 8-of-16 passing for 93 yards over seven Chiefs possessions before he was pulled in favor of Brady Quinn. Cassel's replacement didn't fare much better in the 28-6 loss, but that might not matter at this point. Crennel already showed his hand last month. Had Quinn not suffered a concussion back in Week 8, Cassel already would've been out of the equation.
Barring another Quinn injury, Cassel is unlikely to sniff the field again.
One of general manager Scott Pioli's first orders of business upon joining the Chiefs was to bring Cassel over from the New England Patriots. Pioli got an up-close and personal look at how well Cassel performed after replacing an injured Tom Brady in 2008. The Patriots went 11-5 without their MVP, and Pioli saw Cassel as the type of player who could bring similar success to the Chiefs.
It hasn't worked out that way. Cassel was efficient in one run to the playoffs with the Chiefs in 2010. But on balance, the Chiefs' attack has been flat with Cassel at the reins. The team has gone 19-28 in Cassel starts.
Cassel deserves to lose his job. You can say the same thing about the man who brought him to Arrowhead.
im not a hater but like many on here I think its time for him to go IMO
"Please do not give my compliments to the Chefs," say Kansas City fans. "Take your business elsewhere," replies Scott Pioli.Any sign calling for the firing of the Chiefs general manager is being confiscated, or the fan risks being kicked out of the stadium for the day. A representative of "Save Our Chiefs" was temporarily detained by Arrowhead Stadium security and was told to stop passing out fliers or he would have to leave. There was a well-coordinated "blackout" by fans in protest of the Chiefs' awful performance this season and it would have looked great if the stands were at least 50% full.
Maybe we can assume that the stands are so empty because there are just that many people that want to express their feelings about Pioli and maybe there's just not much to see today with the 1-8 Chiefs hosting the 4-5 Bengals. What we know for sure is that the fans feel that their first amendment rights have been violated (they likely haven't) and that the Chiefs have not exercised their right to bear an arm at quarterback in a very long time.
should we vote??? or protest and off we go in the paddy wagon
Straight up embarrassment we don't even compete and when we do compete we make mistakes high school football teams make. The end of the season can't come fast enough….then the season will be over things will happen and I'm gonna get all excited again….such is the life of a Kansas City fan and mizzou fan.
This man's death is blamed in part on the woeful 2012 embarassment known as the Kansas City Chiefs.
Quote:
---
Loren G. "Sam" Lickteig passed away on Nov. 14, 2012 of complications from MS and heartbreaking disappointment caused by the Kansas City Chiefs football team.
---
http://www.legacy.com/obituaries/kan…78#fbLoggedOut
Let me introduce you to a great head coach in waiting:
Kyle Shanahan, Age 32
The son of NFL head coach Mike Shanahan and currently the offensive coordinator for the Washington Redskins. He is the person responsible for RGIII's development and the brainchild behind the Redskin's offensive system that takes full advantage of their QB's skill-set.
Before being the OC for Washington, Kyle was the OC for the Houston Texans and Matt Shaub where, in 2009 his offense ranked 4th in the league. The Redskins currently rank 7th overall and his rookie QB currently enjoys a 93.1 QBR… good for 8th in the league.
Although his age would lead one to believe he lacks experience, he boasts 9+ seasons of NFL coaching experience with the past 3 being stellar work as an OC.
This is from NFL.com:
"The Redskins' offense has been the talk of the 2012 NFL season. Robert Griffin III has been outstanding, but the design of the Redskins' scheme has been terrific, as well. Kyle Shanahan is getting a lot of praise around the NFL for quickly developing RG3 and designing a creative offense to fit his skills."
AFC executive: "Kyle is extremely smart and he's excellent with quarterbacks. He has all of his dad's qualities and he's going to be a great head coach."
If the Chiefs are going to restart again, why not do it with one of the great young talents in the NFL? Create some stability with a young head coach who isn't too old to grow with the game and perhaps help innovate as the league progresses with the next generation.
There is little doubt that there will be calls for the old fallbacks of Gruden, Cowher, Schottenheimer, etc. but the NFL is quickly becoming an offense-first, QB driven league with rule after rule aimed at doing everything they can to help the offense. The average points per game are on the rise and a young offensive mind who can develop a top 3 overall pick at QB and design a system around him is the way to go when looking for the next Head Coach for the Kansas City Chiefs.
Imagine long-term stability at the head coaching position from a man who can not only anticipate change, but be part of the offensive innovation driving the league. Perhaps Ray Horton would be a nice name to pair as the Defensive Coordinator if Romeo Crennel does not stay in the fold.
Kansas City Chiefs (1-8)


vs.
Cincinnati Bengals (5-4)

Sunday, November 18, 12:00PM Central Time
at
Arrowhead Stadium, Kansas City, KS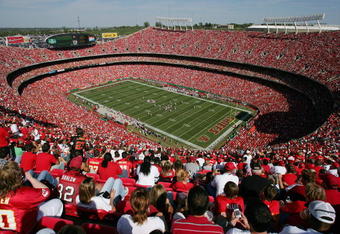 on CBS

Watch online: Kansas City Chiefs vs Cincinnati Bengals Live Stream Online

I have two tickets to the Chiefs vs bengals game this weekend that I am giving away. Please send me a PM if you are interested. My only requirement is that the winner of these tickets is NOT allowed to wear black!