Hello All!
My husband and I are leaving at midnight tonight and making the 8 hour drive to KC to come to the chiefs game!! We are looking for some fun people to tailgate with! If anyone cares to extend their tailgate party to us, it would be greatly appreciated! Please either message me on here or on h o t m a i l, k_devivo is where you can find me. We are 31 and 33, and I promise we are fun!!
Kansas City Chiefs (1-9)


vs.
Denver Broncos (7-3)

Sunday, November 25, 12:00PM Central Time
at
Arrowhead Stadium, Kansas City, KS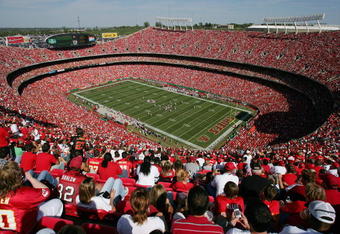 on CBS

Watch online: Kansas City Chiefs vs Denver Broncos Live Stream Online
At least other teams are struggling this year.
On this play, Sanchez tries to hand off the ball to his RB but apparently the RB forgot this was a running play. Sanchez improvises and tries to run the ball upfield and gets a mouth full of his offensive lineman's butt, then fumbles the ball for a TD.
This was all part of a period of time where New England scored 3 TD's in 55 seconds.
Not even Cassel can claim ownership of a play this bad.
#Epic Fail
Despite the let down of a season I am thankful for family, friends, living in this country (despite the current political situation) and being able to come to a place and learn and talk about the chiefs!
Happy turkey day ya'all!!!
Good afternoon Chiefs fans! Good luck this week!
Em
I finally got around to making a ChiefsCrowd.com facebook page. Please take the time to "Like" our page if you haven't already done so.
I am looking for someone that would like to handle press requests for ChiefsCrowd.com. This would include radio spots, tv spots, and interviews. Most of the requests come from the local KC media. There aren't typically more than 1 per month.
The ideal person for this position is someone who has the following:
Very knowledgeable about the Chiefs and their fan base
Comfortable talking on the radio or to a TV reporter
Lives in the KC area
Has Media Ambitions
This is a non-paying position. Please send me a PM if you have interest. This will not require much time, but could lead to great opportunities if done well. Just ask Brandon Spano.
Thank you for your interest!
Jason La Canfora analize the situation on many teams .. among them .. KC Chiefs.. what're your toughts?Kansas City Chiefs: It's all gone horribly wrong there, there are no signs of life and I cannot imagine a way that Scott Pioli and Romeo Crennel are back next season. Owner Clark Hunt looks for hands-on people, as he is not around the team on a daily basis (which could lead to a GM like Bill Polian being the next man there). This team thought it had playoff potential and now it's jostling for the first overall pick. The fan revolt is palpable there, forcing changes.
Possible replacement: The Chiefs need to start over with a new quarterback and I can't help but wonder if Mike Sherman, who has worked closely with them and who has won at this level, gets a chance there. This hasn't been a big-paying job and I have a hard time projecting "A-list" guys there.