By: William Bruno Not too long ago, if you were to listen to Mitch Holthus on The Kansas City Chiefs broadcast you would hear him yell "TOUCHDOWN, Kansas City Chiefs" which was quite often followed by, "TOUCHDOWN, Tony Gonzalez!!!" Since those days ...

By: Nathan Shellstein Anyone who followed the Kansas City Chiefs last year understood that Jamaal Charles was the bulk of the offense. He figures to be a huge part again in 2014, but the team is hoping for a bit more help. Here is a look at the 3 be ...
By avidrunner22
Greetings
I am having no luck trying to find those mock turtlenecks Chiefs players wear in their individual player photos. Google searches yield nothing. Ebay has nothing. It's almost as if they were never sold or not allowed to be.
Does anyone have a lead on where these could be purchased? Especially the older version that Derrick Thomas wore with the larger red CHIEFS letters?
Thank you for your time.
AV22 Read more…
By Josh Alper
The Chiefs wound up getting beaten by a healthy margin on Sunday, but they were either tied, winning or within one score until Kendall Wright's touchdown gave the Titans a 17-3 lead with 10:26 to play in the third quarter. Given the nature of the game, it's strange to see that Jamaal Charles got just…
Read more…
By Slacker6000
Chiefs look like crap against a below average team on our home opener. Next is at Denver, at Miami, New England, and at San Fran. Anyone see us winning any of those games?? DJ and Devito are gone for the season so our defense will suffer greatly.
9-0 last year maybe 0-9 this one.
I dont know why I love this team. They disappoint me every year.
GO CHIEFS! Read more…
Lets start with the offense. It's still kind of hard for me to be really really angry with the offense because the fact is they haven't been complete at all outside of 5 plays in the preseason. Having said that I want to say a few things.
HOW IN THE :sign0053: WORLD does one of the top RBS in the NFL get 7 carries? WHAT THE :sign0053: Reid needs to get over his love for passing and RUN THE :sign0053: ball. Even more so when your best WR is not there. How much :sign0053: brain power does that take?
Next Read more…
By Josh Alper
The Chiefs lost a game on Sunday and they lost two defensive starters with injuries that are likely season enders. Coach Andy Reid announced after the game that linebacker Derrick Johnson and defensive end Mike DeVito both ruptured their Achilles tendons during the 26-10 loss to the Titans. The losses are severe ones for the…
Read more…
Not many people expected much of anything from the Titans this year. But in Week One, there was plenty for Tennessee fans to like. Titans quarterback Jake Locker completed 22 of 33 passes for 266 yards, with two touchdowns and no interceptions, as the Titans took it to the Chiefs, 26-10. Although both teams got…
Read more…
The news out of Kansas City is not good for the Chiefs. Two starters on the Chiefs' defense, linebacker Derrick Johnson and defensive end Mike DeVito, have left the game with Achilles injuries. Although there's no immediate word on the severity of the injuries, they've both already been ruled out of today's game. And Achilles…
Read more…
By TopekaRoy
The Kansas City Chiefs

vs.
The Tennessee Titans


Sunday, September 7, 12:00pm CST
at
Arrowhead Stadium
Kansas City, Missouri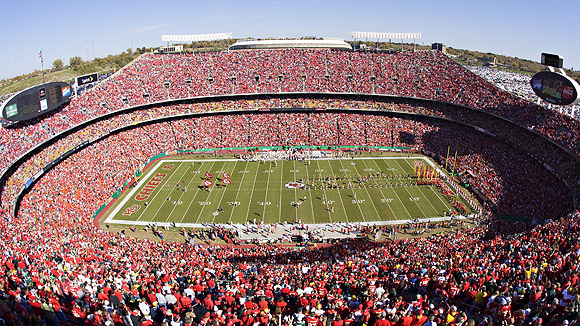 Television coverage:
CBS


Read more…